Free Shipping
All Orders Over $249!
Caldera Spa Cantabria - 8 Person Hot Tub
Caldera Spa Cantabria - 8 Person Hot Tub
Invite the whole neighborhood over to enjoy the spacious Cantabria portable hot tub from Caldera Spas. This expansive hot tub is perfect if you're looking to sprawl out and enjoy a tranquil solo soak, or throwing a relaxation party with family and friends. The Cantabria spa provides the perfect atmosphere to spend quality time with the ones you love. It comfortably seats 8 adults. take advantage of the tension melting UltraMassage® lounge with the customizable UltraMasseuse® System. Its jetting system is designed to customize your massage experience with 6 different jet sequences and 3 speeds. Enjoy the variety and luxury provided by the Cantabria portable hot tub by Caldera Spas.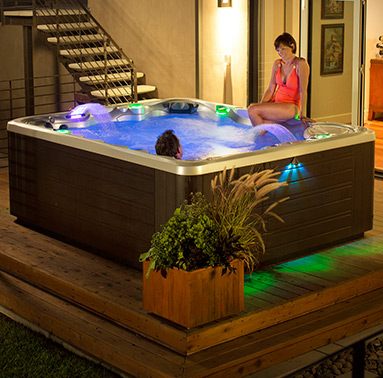 MULTI-ZONE LIGHTING
Enchanted evenings are yours with the SpaGlo® multi-zone LED lighting system. Make the water in your Utopia Series spa a tranquil teal, radiant red or another color. Illuminate the Acquarella® waterfalls for added drama. Set each of the four zones separately or all zones alike, sit back and enjoy the glow.
Utopia light zones:
Underwater light, Euphoria® jet and assist bar
Diverter and air valves, speakers (select models)
Acquarella waterfall(s)
EcoTech® cabinet sconces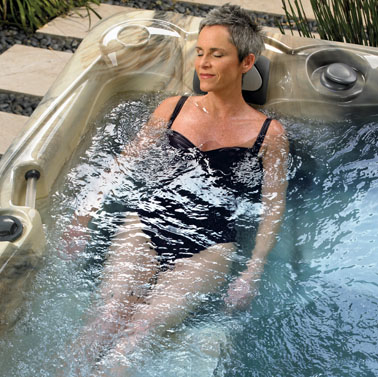 HOT TUB CIRCUIT THERAPY®
When a personal trainer designs a specific series of exercises, called circuit training, you get a more balanced workout. Similarly, in the seats of your Caldera spa you'll find various types of jets in specific anatomical configurations. So, as you move from seat to seat, all of your body's major muscle groups receive a completely satisfying massage.
FROG®
Complicated water care is a thing of the past with the FROG system. Just replace bromine cartridges Monthly and minerals four times a year to maintain sparkling clear water.
ULTRAMASSEUSE® LOUNGE
The UltraMasseuse® system, an exclusive feature of the Cantabria® spa, has an impressive range of options for customizing your hot tub experience. Each of the six sequence modes are adjustable, letting you melt away tension at your own pace.
| Specification | |
| --- | --- |
| Seating Capacity | 8 |
| Dimensions | 9' x 7'7" x 38" |
| Water capacity | 550 gallons / 2,082 liters |
| Weight (Dry) | 1,461 lbs. |
| Weight (Filled) | 7,448 lbs.* |
| Number of Jets | 74 |
| Hydromassage Jets | 1 Euphoria® jet, 2 OrbiSsage® jets, 7 VersaSsage® jets, 4 AdaptaSsage® jets, 4 Euro-Pulse® jets, 56 Euro jets |
| UltraMasseuse® System | 6 jetting sequences; 3 speeds |
| Air Jet System | 14 air jets |
| Jet Pumps | 3 ReliaFlo® 2.5 HP (5.2 BHP**); 1 single-speed, 2 dual-speed |
| Control System | Advent® control system with auxiliary control panel; Includes GFCI protected sub-panel |
| Circulation Pump | EnergyPro® system |
| Heater Output | EnergyPro® system 4,300 watt |
| Electrical Requirements | 230v/50 amp, 60Hz; 230v/70 amp, 60Hz (optional***) |
| GFCI Sub-panel | Included |
| Filter Size | 100 sq. ft. |
| FROG® Water Care System | Cartridge-ready |
| Monarch® CD Ozone System | Included |
| Water Feature | 2 Acquarella® waterfalls |
| Aquatic Melodies® Entertainment | Optional Integrated MP3 sound system; Optional Wireless multi-source sound system; Optional Wireless TV |
| Multi-color LED Lighting System | SpaGlo® multi-zone system; interior and exterior |
| Energy Efficiency | Fully-insulated with FiberCor™ material, 2 lb. density; Certified to the California Energy Commission (CEC) in accordance with California law |
| Insulating Cover | 3.5" to 2.5" tapered, 2 lb.-density foam core |
| Spa Shell and EcoTech® Cabinet Options | Champagne Opal, White Pearl or White Sands with Coastal Gray, Espresso or Redwood; Sterling Marble with Coastal Gray or Espresso |
Notes:
*Filled weight includes the weight of the occupants assuming an average weight of 175 lbs.
**Brake Horsepower (BHP) is the horsepower a pump motor achieves for a brief period upon start-up.
***Requires 70amp breaker in order to run the heater at the same time as the third jet pump (lounge seat)
dimensions
9' x 7'7" x 38"